Cambodia Environmental Law Train-the-Trainers Program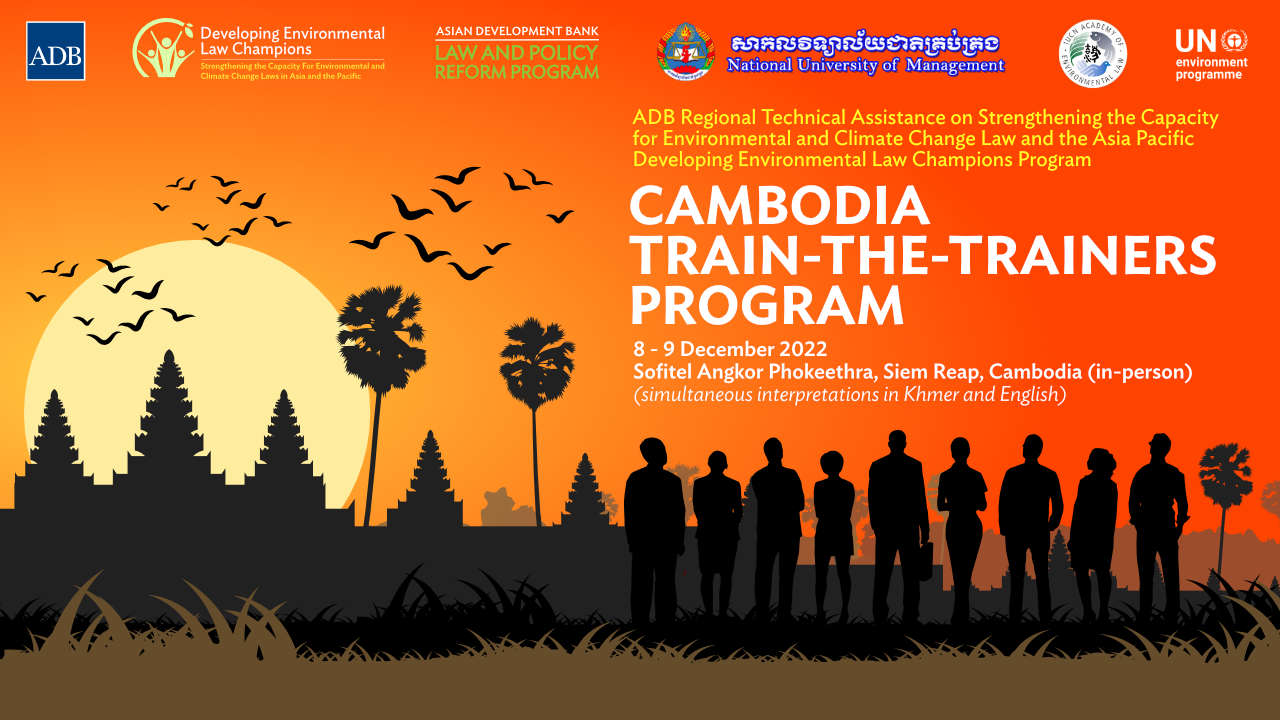 Environmental degradation threatens ecosystems, food and water security, and livelihoods, particularly for the poor, exacerbating climate change impacts. Illegal activities, weak governance, ineffective implementation, compliance and enforcement of laws worsen most environmental problems. Moreover, limited expertise in environmental and emerging climate change laws in government, judiciaries, academia and the private sector impedes sustainability. Although the demand for environmental law expertise is growing—driven by new policies and laws and, sometimes, new specialist environmental law courts—there are insufficient suitably qualified environmental law experts to advise governments, courts and the private sector.
A significant challenge in meeting the increasing need for environmental and climate change experts is the lack of capacity and investment in legal education. The teaching of environmental law is currently under-resourced and inadequate in almost all countries in Asia and Pacific countries, even those that have decreed the subject mandatory within a primary law degree curriculum. Furthermore, since the COVID-19 pandemic, there has been a shift to online learning, and legal education needs to adapt to new modalities such as online and hybrid teaching.
Over the years, ADB has supported capacity development for environmental law academics through the Developing Environmental Law Champions Program, currently funded under ADB regional technical assistance entitled "Strengthening the Capacity for Environmental and Climate Change Laws in Asia and the Pacific: (TA). The TA has three components: (i) improving the quality of teaching environmental and climate change through train-the-trainers (TTT) programs; (ii) expanding national, subregional, and regional networks; and (iii) enhancing knowledge platforms to increase national and regional expertise.
As part of the TA, ADB and national and regional partners have held in-person and virtual TTT programs. An in-person TTT program will be held in Siem Reap, Cambodia, on 8-9 December 2022. The Asian Development Bank (ADB) will partner with the National University of Management for this TTT program.
The aims of the Cambodia TTT program are to:
Update environmental law teachers in Cambodia with best-practice concepts in pedagogy.
Explore lessons from the COVID-19 pandemic and innovations in distance learning and online pedagogy
Introduce the draft Model Environmental Law Curriculum for the Greater Mekong Subregion ("draft Model Environmental Law Curriculum") and discuss its applicability to the development of a Cambodia Model Environmental Law Curriculum. 
Foster networking and knowledge-sharing between environmental law professors and academics in Cambodia.
Participants will be given opportunities to develop teaching modules and be provided with practical training and skills development. Time will also be available to review online materials to support environmental law teaching and research.
 
Program Materials
Presentations
Contact Person
Matthew Baird
ADB Developing Environmental Law Champions Program (Consultant)
Asian Development Bank (ADB)
matthewhbaird

[at]

me.com
---
---
---
---
---