Khemngeun Pongmala
Lecturer/Researcher, Faculty of Environmental Sciences, National University of Laos
---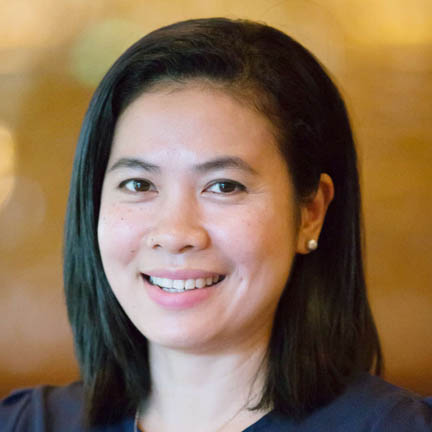 Khemngeun Pongmala hold BSc. Ing from Faculty of Civil Engineering (joint program France and NUOL); MSc.A on Urban Environmental Planning (INSA Toulouse, France and Ecole d'Architecture de Hanoi); MSc. Ing on Environmental Engineering (Ecole Polytechnique de Montreal, Canada). Ms. Khemngeun Pongmala has served as a Head of Environmental Treatment Technology for Faculty of Environmental Sciences, National University of Laos as lecturer and researcher since 2006. Her main research interests are water resources, drinking water resources by applying mathematical modeling to achieve the better understanding of microbial contaminations in water sources; water governance, groundwater quality studies. 
Ms. Khemngeun Pongmala is engaged in different research projects in Faculty of Environmental Sciences such as member of research committee of Center of Excellent for Environmental Management. She has served as the Project Director of the EIA capacity building project, supported by World Bank which aims to enhance the knowledge on EIA technical practice, law, regulation, and EIA guideline for the whole country of Lao PDR. She is involved in various research projects such as MPOWER project to contribute to the development of Mekong Hydropower governance curriculum; ACIAR project "Enhancing the resilience and productivity of rain-fed dominated systems in Lao PDR through sustainable groundwater use"; National project of Asian Development Bank "Capacity Building for Natural Resource Management and Socioeconomic Bench - marking in the GMS", implemented by Faculty of Environmental Sciences; National University of Laos"; European Union - Asia Link such as "Building Human Resources Development in Geo-Engineering and Exploration" and "Cambodia and Laos Initiative for Building Human Resources for the Environment"; "Groundwater treatment research, NUOL"
Beside teaching and research in Laos, Ms. Khemngeun has developed a modeling tools created by USEAP for Greater Montreal Basin, Quebec, Canada for protected drinking water resource; been an assistant professor teaching "Urban water" in Ecole Polytechnique Montreal, Canada; a consultant for different projects such as climate change adaptation; watershed profile of national river basins; flood and drought risk management and mitigation for National Early Warning Center, MONRE; Drafting the SESA for REDD+ project in Laos and conduct the environmental impact assessment. 
→ Previous Page