Legal Preparedness for Responding to Disasters and Communicable Disease Emergencies: Study Report - Lao PDR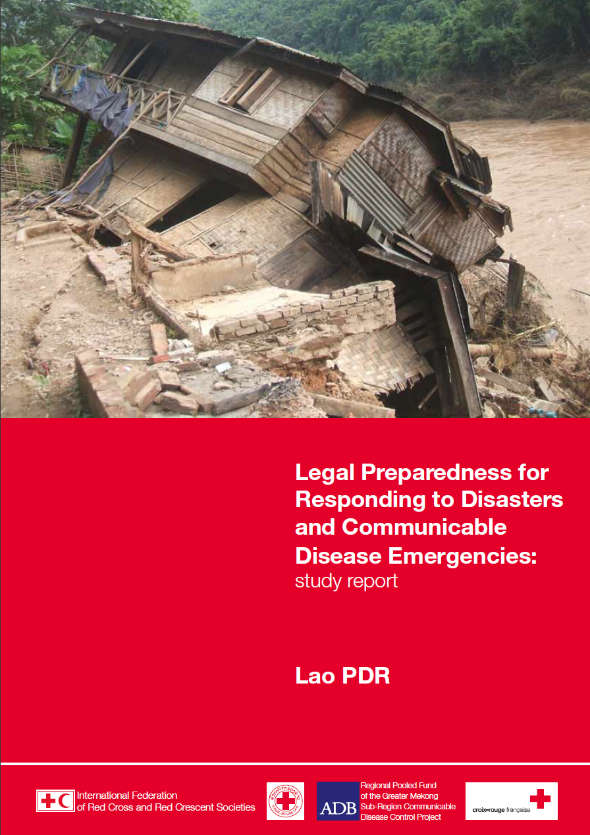 Legal issues are often overlooked as part of preparedness planning for disasters and communicable diseases. Recent research from large-scale disaster operations around the world, conducted by the IFRC, has demonstrated that vital international support can be hampered by the domestic legal framework. Furthermore, concerns about potential pandemics have heightened the need to ensure that legal issues are anticipated and managed in advance of an outbreak situation, to enable a rapid response. There are a number of international and regional legal instruments and standards which have been developed to address many of these issues, several of which are applicable to Lao PDR; however, these are not always implemented effectively at the domestic level.
Laos is prone to a number of different disaster and disease risks such as floods in the Mekong corridor, major droughts, earthquakes, flash floods and storms related to a heavy typhoon season, as well as human influenza pandemic. Having a comprehensive legal framework in place will facilitate fast mobilization and response in the event of an emergency and will contribute to good coordination and information exchange between different humanitarian partners regardless of whether they are local, national or international.
This legal research study was conducted in Lao PDR between March and August 2009. The study aims to:
Identify gaps and areas of good practice in addressing legal issues and implementing the key regional and international instruments relevant to disaster and communicable disease emergencies in Laos;
Recommend legal and policy measures to minimise legal barriers and encourage effective national and international responses to disasters and communicable diseases in Laos.
The research process involved:
Legal document collection and analysis against key international and regional instruments;
A survey of key stakeholders (more than 100 stakeholders were interviewed from more than 40 governmental and non-governmental organisations);
Consultation meetings with UN, INGOs and government officials;
A high-level meeting on the 5 August 2009 to discuss the findings and recommendations of the study with the Government of Lao PDR.