Asian Development Bank Sustainability Report 2020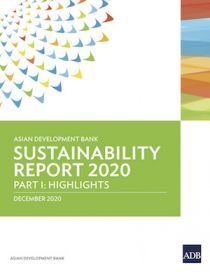 The ADB Sustainability Report 2020 provides detailed information on the economic, social, and environmental impacts of ADB's operations, activities, and institutional practices for 2018 and 2019.
Produced every 2 years, the report aims to enable stakeholders to understand and assess ADB's sustainability performance. It includes information on how ADB operations are curbing emissions; promoting resource use efficiency; expanding green, blue, and climate financing, increasing investments in clean energy, and much more. This 2020 report consists of two parts. Part I: Highlights, presents key sustainability information in a highly visual format using infographics, and Part II: The Global Reporting Initiative (GRI) Content Index, details ADB's sustainability approaches against GRI reporting standards.
CONTENTS
Part 1: Highlights

The President's Statement
Sustainability Highlights, 2018–2019
About the Asian Development Bank
Governance
Accountability and Transparency
Stakeholder Engagement
Strategy 2030: Seven Operational Priorities
Environmental and Social Safeguards
Private Sector Operations
Knowledge Services
Enhancing Human Resources
Resource Management

Part 2: Detailed Global Reporting Initiative Content Index

Introduction
GRI 102: General Disclosure 2016
GRI 200: Economic Topics
GRI 300: Environmental Topics
GRI 400: Social Topics